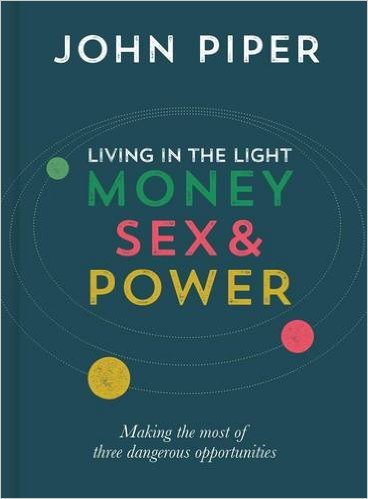 John Piper's newest book Living in the Light: Money, Sex and Power explores with brevity and clarity how the Christian ought to respond to the issue of money, sex and power in light of the gospel. He argues that they are good things that when properly used deliver incredible benefits. He dives into each area: sex, money, and power to show the Christian vision, then spends the last two chapters showing how the gospel completely changes our perception and uses of these issues.
One of the ways which Piper is helpful is through his use of metaphor, which masterfully illuminate his points. He has an overarching metaphor of how these gifts are blessings when they properly orbit the Sun (Son!). When one of the planets becomes the center point of our orbit, we run into chaos. The metaphor is reinforced and unpacked throughout without redundancy, which causes the reader to delight and hold onto it. Just this afternoon in counseling a man I used a very abbreviated version of this. It's a metaphor, like many of his, that helps explain well and sticks with you.
I also appreciated Piper's continued declaration that money, sex, and power are very good things to be pursued but in a Christian way. He was not content to note their abuses and reject them, but he casts a positive vision of how they are to be employed as God's good gifts.
While Piper's book was quite good, I have to compare it to Timothy Keller's Counterfeit Gods, which deals with same topics. I would probably recommend Keller's work over Piper's (though I'm a huge Keller fan, so I carry a bias). Piper does a better job at covering a large swath of Scripture, but can on occasion overwhelm the mind with the multitude of points. Keller captures my imagination better and helps to set the scene in a way that is accessible for non-Christians and almost Christians.
Overall, I would certainly recommend this book to help cast a solid vision for these three areas for the Christian.
I received a free copy of this book from Cross Focused Reviews and was not required to post a positive review.

Pastor Aaron is the Associate Pastor of Youth and Children at EMC. He and his wife Liz have two daughters, Eden and Chara.

Latest posts by Aaron Meservey (see all)