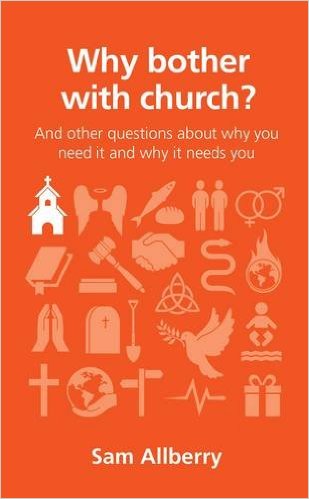 Sam Allberry's book Why Bother with Church? And Other Questions about Why You Need it and Why it Needs You provides a brief sketch of the importance of church commitment. Today's Christians very often view church attendance as sort of a hobby to enjoy when desired. Allberry, though sympathetic throughout, sketches a vision of what the church is and should be that compels the reader to take it more seriously as well as explaining different components.
Allberry combines thoughtful insight with great care and compassion in this primer on church. You can tell that he is someone who has at times struggled to attend, but as a man of convictions finds that he must. His charm allows you to feel such conviction as well. The brevity of the book (95 small pages) makes it a non-daunting read which may entice readers to pick it up. He deals very realistically with the cost that churches have but paints a vision of what God intended them to be that entices the reader to put up with such a burden. While he outlines many different purposes of the church, the recurring vision is that of family and community, which necessitate real involvement.
Allberry is careful to not only to convince you that attendance is important and necessary but he'll help you understand different things that are going on to remove roadblocks of confusion. He has a chapter on how churches are run. Also sprinkled throughout are very brief asides on potential reservations: Hasn't the church done more harm than good? How should I pick a church? What are baptism and communion for?, etc.
My one hesitation with this book is his small aside regarding female eldership. While he presents his case well, as a Methodist I'm inclined to accept the practice, whereas he follows a complementarian view, which violates our discipline. Unfortunately, this will prevent my use of an otherwise excellent resource to hand out to new members or recent converts.
Pastors should consider using this book for three purposes. First, we come across an increasing number of professing Christians who do not believe the church is worth the bother or view attendance with a "when I feel like it" attitude. Allberry provides winsome and convincing answers to such an attitude that you would do well to keep in your mind. Second, with modification this book could provide a basis for a good sermon series, which deals with a serious issue that is immediately practical. Third, it would be a great resource to give to new members or recent converts to explain the importance of church.
Overall, Allberry provides an excellent resource for pastors or those who are asking the question posed by the title.
I received this copy for free from Crossed Focused Reviews. I was not required to write a positive review.

Pastor Aaron is the Associate Pastor of Youth and Children at EMC. He and his wife Liz have two daughters, Eden and Chara.

Latest posts by Aaron Meservey (see all)