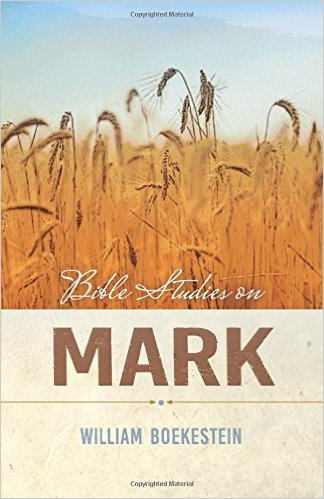 William Boekestein's new book Bible Studies on Mark has set out to help lay persons study this incredible book of the Bible.
Boekestein's writing is clear and accessible even for the novice. He takes great care to not lose the reader by filling in with anecdotes, illustrations, and helps to introduce basic theology as you come across words, phrases, and themes. He assumes almost no knowledge of the Bible, so he will explain basic terms like Christ, parable, etc.
At the end of each chapter he also gives questions to help facilitate discussion and help people apply the truth to their lives.
Having studied Mark more in depth than most books, I can appreciate all the study that has gone into this book. It's clear that he spent many hours looking to understand what's happening in the text to present it.
The book has some weaknesses though. First, it is not really set up to persuade. If you differ from his interpretation, you probably won't change your opinion, though that may be expecting too much from what the book tries to do.
Second, the questions at the end could be a little better. Very often they are polar questions (answered by a yes or no response) that don't help stimulate introspection or conversation well.
I was also a little surprised that he included the longer ending of Mark as part of his text, though he gives a note. Despite that almost all scholars are quite confident that 16:9-20 are not original to the text, he views them as authoritative.
While this book probably won't be terribly helpful as a pastor's preaching commentary, it could help lay-persons lead a Bible study or an individual who wants to go deeper in his devotions.
I received a free copy of this book from Cross Focused Reviews and was not required to post a positive review.

Pastor Aaron is the Associate Pastor of Youth and Children at EMC. He and his wife Liz have two daughters, Eden and Chara.

Latest posts by Aaron Meservey (see all)